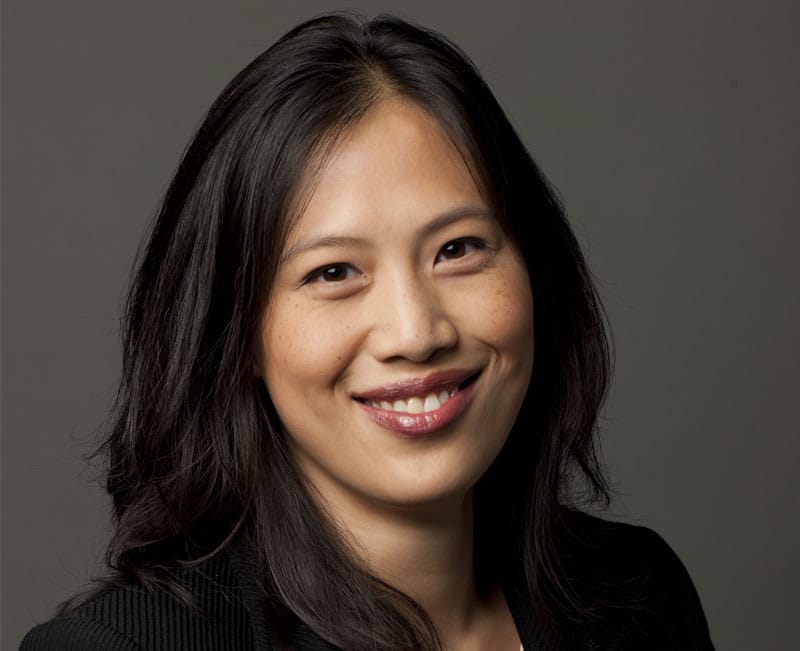 Dr. Jennifer Doe, M.D.
Western and Chinese medicine
Dr. Jennifer Doe began her path in medicine when she was accepted into Albany Medical College while in high school through a six year combined undergraduate and medical degree program offered through Rensselaer Polytechnic Institute. She then completed residency at Albany Medical Center and went on to specialty training at Columbia University and St. Barnabas Medical Center.
Dr. Doe is passionate about health and wellness. During her internship, she studied traditional Chinese medicine in China where she was able to see how both Western and Chinese medicine were used together to treat patients. Since then, she supports combining alternative therapies with traditional forms of medicine to get patients moving and recovering from their injuries and illnesses.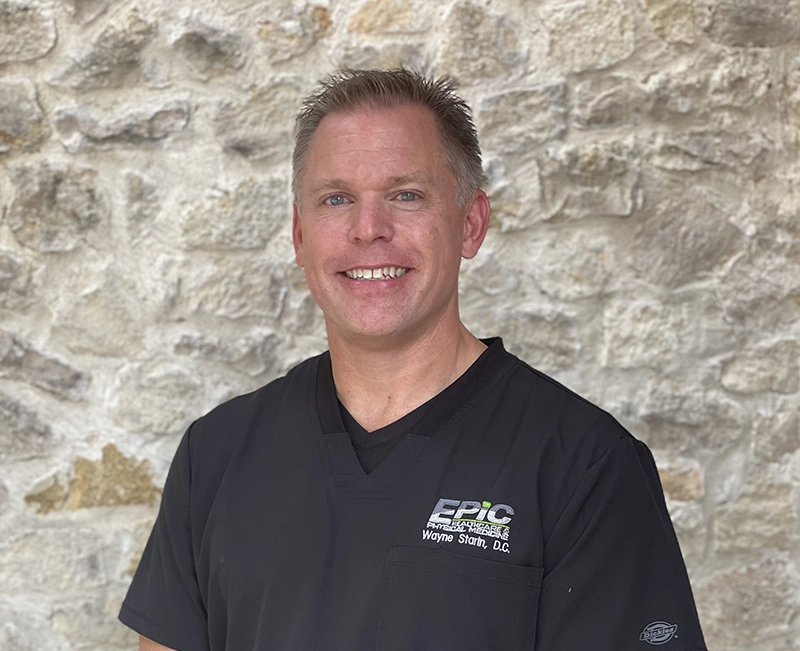 Dr. Wayne Starin, D.C.
Clinic Director
Dr. Wayne Starin is the Clinic Director of Epic Healthcare & Physical Medicine. He did his pre-med training at America River College in Sacremento, California. In 1996, he graduated with honors with a Bachelor of Science and Doctor of Chiropractic degree from Palmer College in Davenport, Iowa, the largest and most prestigious Chiropractic College in the world. He also completed advanced postgraduate training in radiology in the field of spinal and skeletal disorders.
Dr. Starin specializes in reducing the harmful affects of stress on a person's health and nervous system. He is certified in over 7 different chiropractic techniques not limited to the spine.
Dr. Starin is a distinguished member of the Foundation for Wellness Professionals, which is a national association of doctors who donate their time to provide complimentary workshops on health, stress, wellness, ways to increase your energy, and balancing your hormones naturally. Dr. Starin is dedicated to the community, and has donated time to charity events such as Toys for Tots and Wednesday's Child.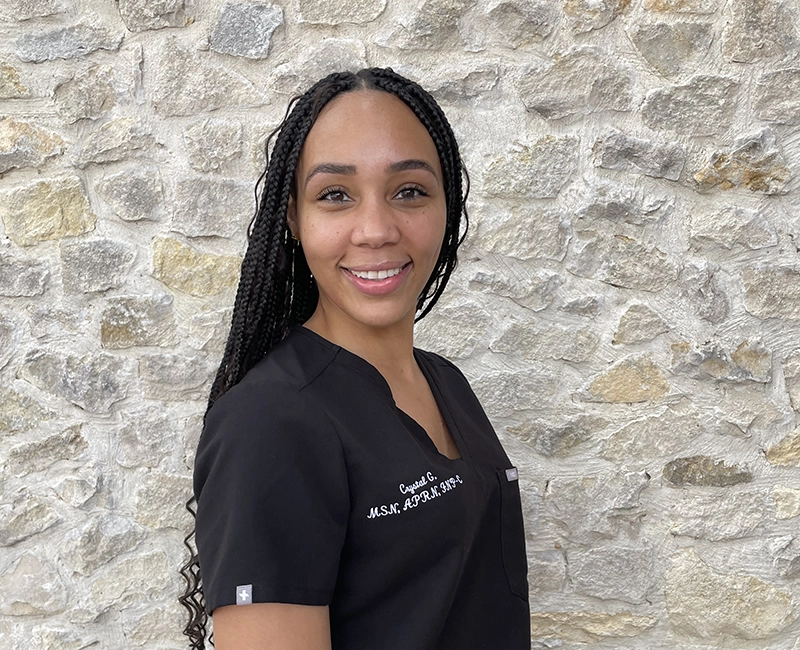 Crystal Givens, FNP-C
Family Nurse Practitioner
Crystal is a highly qualified and passionate Family Nurse Practitioner that was certified by The American Association of Nurse Practitioners. She obtained her Bachelors of Science in Nursing from Prairie View A&M University and Masters of Science in Nursing from The University of Texas at Arlington. Crystal's commitment to patient care has earned her recognition by the Sigma Theta Tau International Honor Society. Her diverse previous work experience includes intensive care, surgery, bariatrics, weight loss management, and regenerative medicine.
Crystal's main goal is to use obtained skills and knowledge to care for individuals holistically. She is very passionate about regenerative and physical medicine; she believes it is the best way to care for patients because it is less invasive than traditional surgery options and prescription medications. Crystal's patient care style is characterized by genuine compassion, advocacy and education. She takes time to listen and fully understand her patients' unique needs which allows her to provide individualized care.
In Crystal's free time, she enjoys quality time with her husband, son and traveling.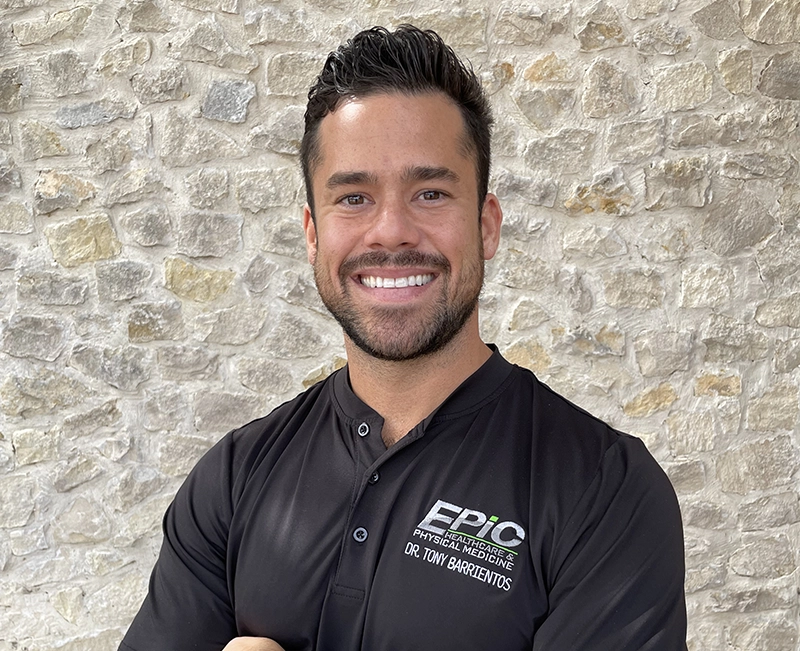 Dr. Tony Barrientos, D.C.
Chiropractor
Dr. Tony Barrientos is a graduate of Parker University (D.C.) along with a Bachelor in Anatomy as well as a Bachelor in Health & Wellness. He has postgraduate advanced training in the field of radiology in spinal and skeletal disorders. He has been in natural healthcare for 10+ years and certified in over 7 different chiropractic techniques. Dr. Tony's healthcare journey came full circle as he started as a chiropractic assistant under Epic Healthcare's Clinic Director, Dr. Wayne Starin. The opportunity to experience holistic, life changing treatments firsthand is what ultimately led him to become a Doctor of Chiropractic years later. It is the very driving force to why Dr. Tony is so passionate and dedicated to providing a better quality of life to those around him naturally without the use of drugs or surgery. He is originally from the Flower Mound area where he has spent time doing community service and health fairs. Dr. Tony uses his unique talents and 10 + years of experience in neuromuscular remodeling to help those distressed with joint and nerve pain improve their quality of life.When Dr. Tony is not with patients, he enjoys his days being outside in the sun golfing, longboarding with his French Bulldog, Jellybean, or relaxing with family and friends by the pool.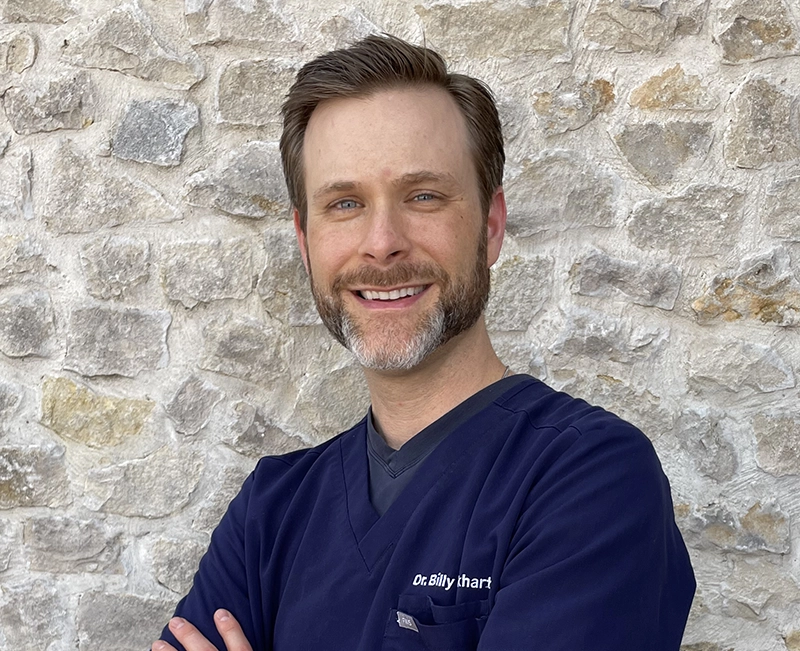 Dr. Billy Lockhart, D.C.
Chiropractor
Dr. Lockhart is passionate about helping his patients become the healthiest version of themselves. He believes chiropractic and wellness treatment play a huge part in this. Dr. Lockhart aims to get to know each individual and determine what daily activities and habits are the root cause of the problem. In knowing this, the initiator of the problem and not the symptoms can be treated. His focus is to get you pain free along with educating and helping you understand how to maintain those results long term.
Dr. Lockhart is committed to furthering his education by staying on top of the latest research and techniques to ensure each patient is provided the highest level of care. As part of the Epic Healthcare team, he has some of the most advanced tools to aid in achieving this. Dr. Lockhart received his Doctor of Chiropractic Degree from Parker Chiropractic College in Dallas. There he also received a Bachelor's in Anatomy as well as Health and Wellness. Prior to attending Parker Chiropractic College, Dr. Lockhart earned a Bachelor's in Biology from the University of Louisiana at Monroe. Dr. Lockhart loves children and has additional education in treating pediatric patients. He has completed 100 hours with the International Chiropractic Pediatric Association. During this time, he received his certification in the Webster Technique. This technique can alleviate pelvic tension and discomfort during pregnancy.
Outside of his professional life, the Louisiana native enjoys being outdoors and cooking. He and his wife have a Labradoodle and a baby girl on the way. They love to travel anywhere that involves the mountains and hiking. Fun fact, Dr. Lockhart loves trivia and usually has a "random fact for the day". Next time you're in, ask him to share it with you.